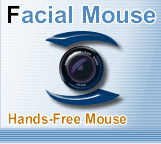 CREA

Enable Viacam

Facial Mouse
Product

Facial Mouse
NEW: An open source version of Facial Mouse has been released. More information.
Control your computer, hands-free!
Facial Mouse is a mouse replacement software that moves the pointer as you move your head. It works on standard PCs equipped with a web camera. No additional hardware is required. It is as easy to use as sitting in front of your computer and looking at your screen.
Core features
| | |
| --- | --- |
| | Hands-Free: Control your computer with intuitive head movements. No need to use your hands — the pointer will obey! |
| | Unobtrusive: Works with any good webcam. No cables, no dots, no additional hardware required. |
| | Flexible: Click and choose clicking options by way of either pointer dwelling or microphone input. |
| | State-of-the-art: Stable motion tracking is guaranteed thanks to its automatic face location feature. |
| | User-centred: Developed and tested in close collaboration with users from the APPC Cerebral Palsy Centre in Tarragona, Spain. |
Facial Mouse — a new concept in Assistive Technology

Facial Mouse can be used as a full alternative or as a complement to a conventional computer mouse. It is especially useful for people with motor impairments in their hands or their arms (due to bone injuries, ALS, multiple sclerosis, cerebral palsy, spinal cord injuries, muscular dystrophy, amputations, etc.). Facial Mouse provides them with an effective and reliable solution for human-to-computer interaction.

Easiness and simplicity.

Simple installation, intuitive use. The integrated configuration wizard gets you started easily. Training can be kept to a minimum.


Maximum comfort. Wireless control without any additional accessories.

You only need a webcam and F

acial Mouse

software. There is no need to purchase expensive hardware or to place cables, sensors, or any other troublesome devices on your body.


Customizability.

Pointer speed, movement acceleration and smoothness, dwelling time, and many other variables can be adjusted to fit the user's needs.


User autonomy.

This product was specifically designed to eliminate the need for assistance after installation.